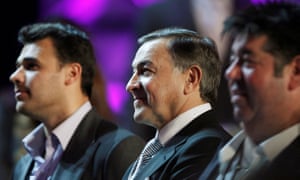 A Russian billionaire who orchestrated the June 2016 Trump Tower meeting formed a new American shell company a month beforehand with an accountant who has had clients accused of money laundering and embezzlement.

The billionaire, Aras Agalarov, created the US company anonymously while preparing to move almost $20m into the country during the time of the presidential election campaign, according to interviews and corporate filings.

The company was set up for him in May 2016 by his Russian-born accountant, who has also managed the US finances of compatriots accused of mishandling millions of dollars. One of those clients has its own connection to the Trump Tower meeting.
Source: Revealed: Russian billionaire set up US company before Trump Tower meeting | US news | The Guardian